The Knoxville Bank of Commerce
Announces a new Visa ATM Card!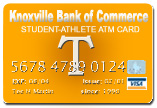 The Student-Athlete ATM card from KBC.

*Free unlimited overdrafts!
*No Fees or Charges!
*No balance required to open!
*Complimentary $5000 initial deposit.
*Gold Members get free SUV's!
Apply at any Knoxville Area Sports Complex on a University Campus
VISA! It's Everywhere you need to be!
Deposits may strangely appear in your account from time to time, this is perfectly normal, and shouldn't cause any alarm. There is no need to keep a register of transactions, as the bank takes care of that for you. All you have to do is enjoy!